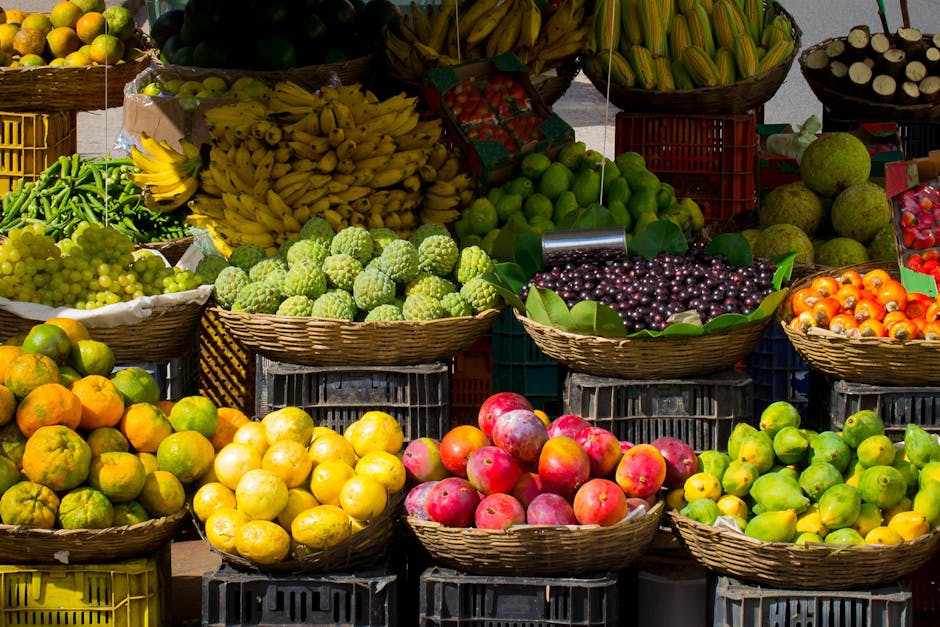 Farmer's markets are becoming increasingly popular and there's a good reason for it. How often have you purchased food from the grocery store just to realize it wasn't quite as fresh as you thought? Even if you return it, you end up losing money as time and travel.
Instead, you can purchase the same food from the farmer's market both for a lower cost and frequently fresher than from the store. Less waste isn't the only reason to head to your local farmer's market; you're simply missing out if you don't!
Here are 4 reasons to check out your local farmer's market.
Fresher Produce
You'll never find fresher produce anywhere else barring starting your own garden. For many people, growing their own food isn't ideal due to a lack of space or time to devote to it. If you can't grow your own, the next best option is purchasing your food from local farmers.
Unfortunately the grocery stores stock their shelves with foods that have been shipped from distant locations rather than locally produced. That means the apple you eat for breakfast could have been sitting for months before it made its way onto your plate. Such a long transit time can not only affect the flavor, but also the nutrient content of certain produce.
Farmer's typically harvest the produce the day before or the morning of the farmer's market so you're getting a superior product compared to what's available at grocery stores. Fruits and vegetables aren't the only foods that are fresher from farmer's markets either; it's likely you'll be able to find eggs, meats, dairy, and freshly baked breads as well as prepared foods such as jams and sauces.
New & Exciting Finds
Unique products are plentiful at farmer's markets, giving you the opportunity to experience something new when you visit. Grocery stores tend to only stock certain varieties of produce, whereas you might find heirloom veggies at your local farmer's market. There are several varieties of commonly loved produce, many of which are slightly different in flavor or texture.
Nutrient content between varieties of produce can vary too, even if they're in the same family. For example, purple sweet potatoes contain more antioxidants than other varieties of sweet potatoes. The greens that grow on them are edible as well but you probably won't be able to find them in a grocery store.
Some other goods you may come across at a farmer's market include handmade items such as jewelry, wooden plaques or furniture, artwork, soaps, lotions, potted plants, and clothing. If you're looking for a unique gift for a loved one, your local farmer's market just might be the place to look!
Supports Your Community
Whenever you make a purchase at your local farmer's market, you're supporting your own community. Instead of handing your money to some large corporation, your money goes straight to everyday people who are providing an important service to your area. You're essentially putting your dollars back into your own community when you shop at a farmer's market.
It also gives you the opportunity to learn more about the products you're buying. If you have questions, you can ask the producer of the item first hand. Many farmers welcome their customers to visit their property so they can see how their produce is being grown or verify that their animals are free-range.
Saves You Money
Vendors at farmer's markets have low overhead costs compared to those who produce for big box stores, which helps their customers save money. They can (and often do) offer lower prices than the grocery store. Some farmers charge by the bag instead of per item, which can save you a good amount of money. If you're buying organic produce, the savings are even more significant.
When you purchase produce in the grocery store for a flat fee per item, each one you buy tends to weigh about the same. Depending on the vendor, the weight of each vegetable might not be taken into consideration when pricing them. Since you hand pick the produce you buy at the farmer's market, your dollars tend to go further than they would if you were to shop at the grocery store.
Finding a Farmer's Market Nearby
Ready to check out your local farmer's market? Try searching for one on Local Harvest. Some areas have more than one, so be sure to visit them all to see how they differ. Certain farmer's markets may be larger or have a better variety of goods available, as well as select vendors who only sell their products there seasonally.
The USDA's Farmer's Market Directory might also come in handy if you're having trouble locating a market in your area. If there aren't any in your area, head back to Local Harvest, as their site can help you locate farms that sell directly to the public.